ECOFILL 400ml
Ecological dispenser with the possibility of refilling.
A clean, safe, quick and easy solution with minimal environmental impact.
Product highlights:
SMART FOR THE PLANET
Permanent system, only the pouch needs to be changed
Reduces plastic waste (only 8g of plastic in a 400 ml bag)
Bottle made in Recycled PP
100% recyclable bottle and pouch
UNDENIABLE QUALITIES
Safe Refillable system, no bacterial risk
Traceability in compliance with EU Cosmetic Regulations
Products origin and quality guaranteed
Antiheft system of the bottle
FAST AND EASY TO USE
Takesonly a few seconds to change the pouch
Only the pouch is changed, the product stays clean
Light and thin waste
Bulk level can easily monitored
A COSMETIC DESIGN
100% customizable with your name and graphics character
Respects and fits in with the brands identity
Easy to use:
Step 1: Fold the pouch and place it into the bottom as shown in the picture.
Step 2: Screw the two parts together
Step 3: Drill the pouch with the pump in the locked position, and screw it on the Ecofill.
Wall Bracket:
Stand up or wall fixed
Light and elegant design
"Invisible" wall bracket
Stainless steel or black ABS plastic
Can be fixed with screws or double-sided tape
Antitheft system
What's the composition?
400ml bag
Part 1 - top
Part 2 - bottom
Pump
Drill tube
USE ECOFILL TO REDUCE PLASTIC CONSUMPTION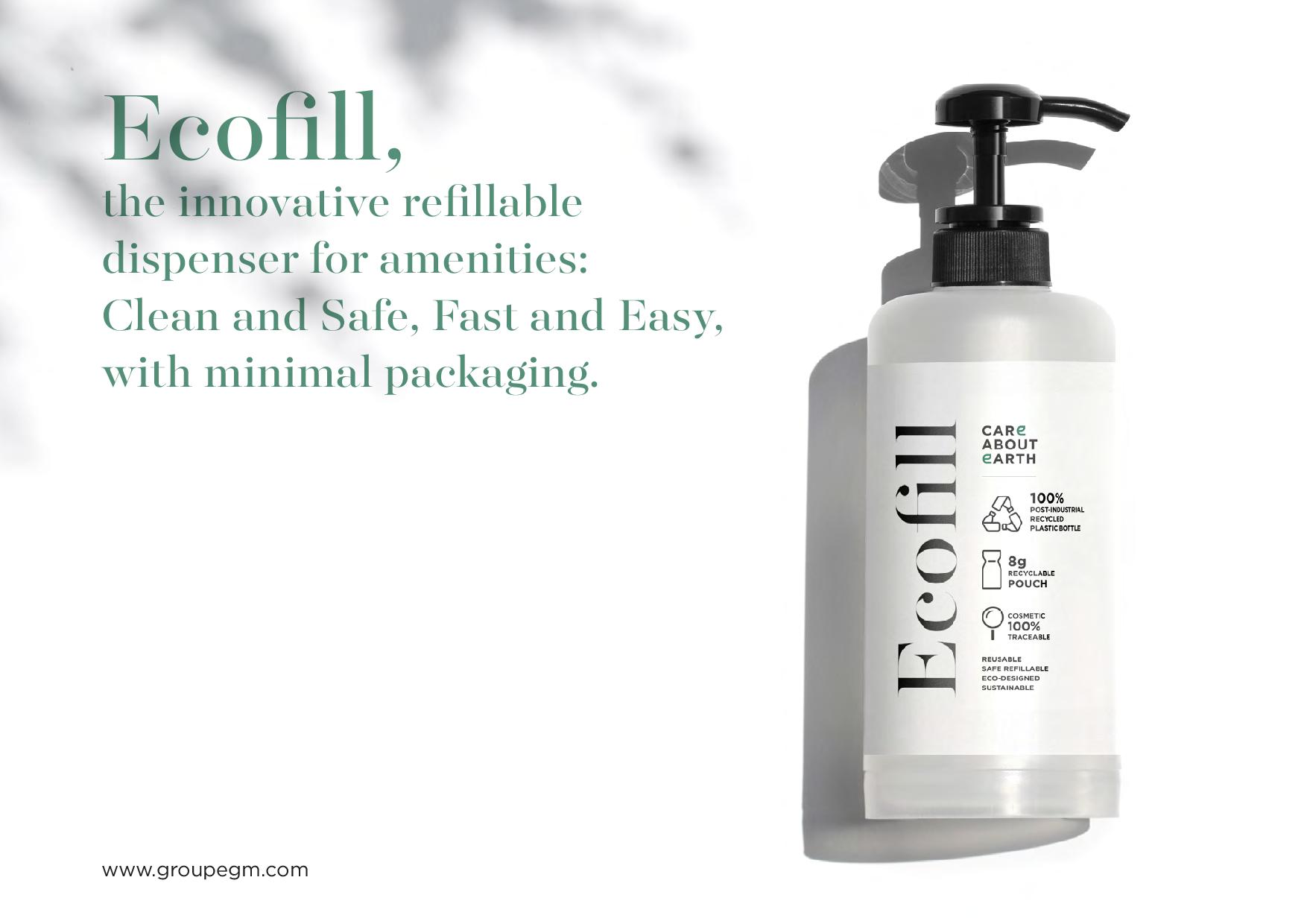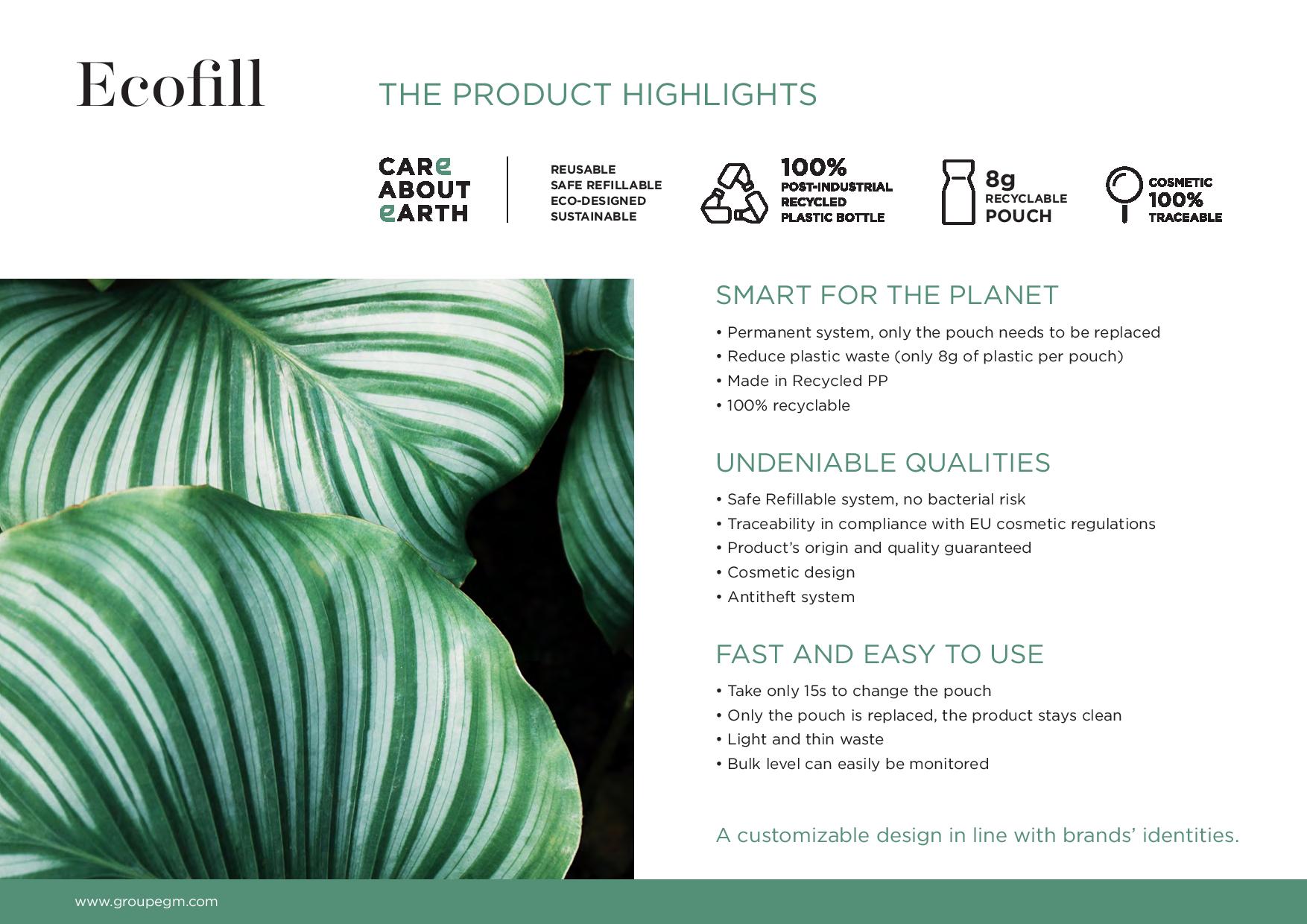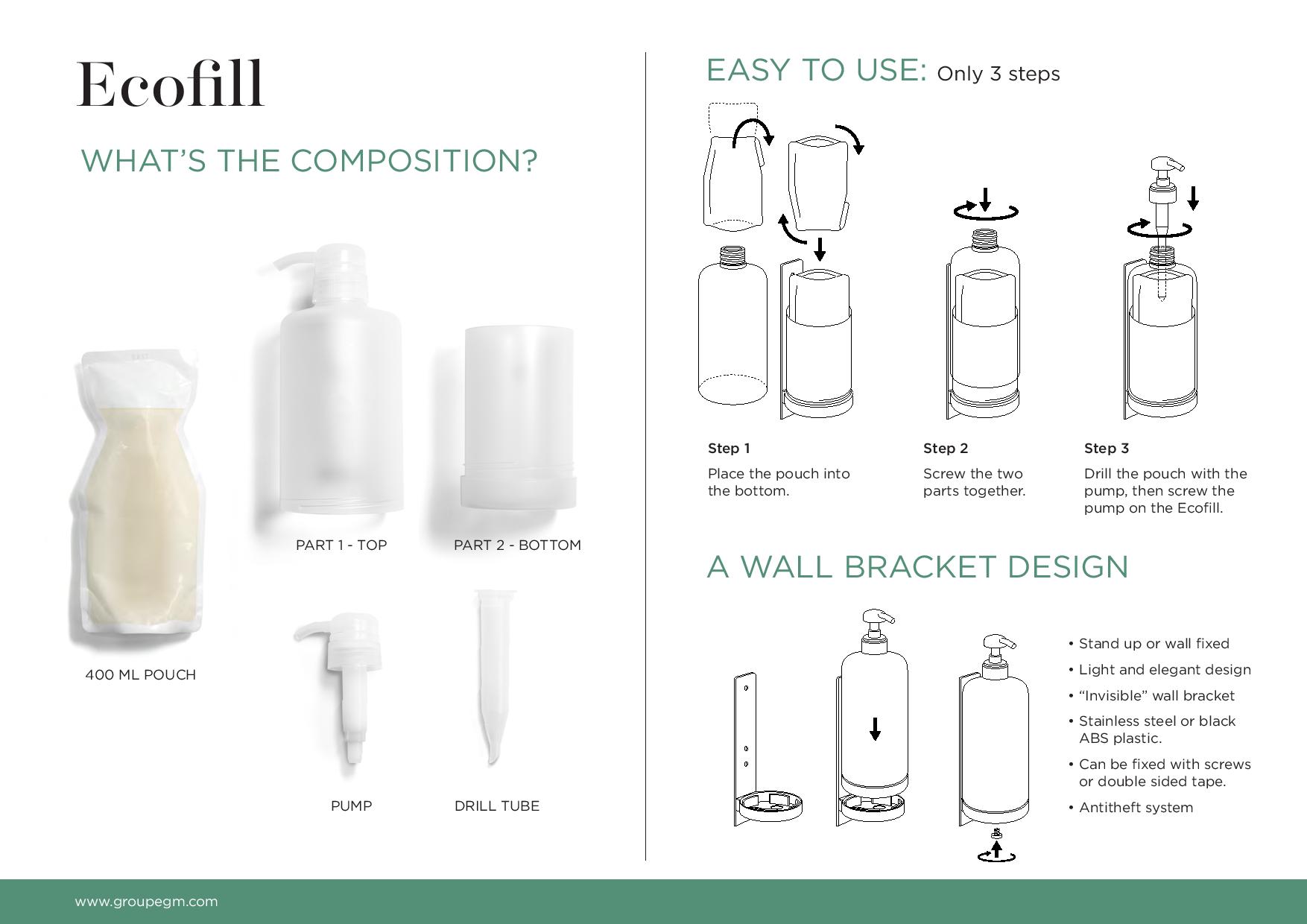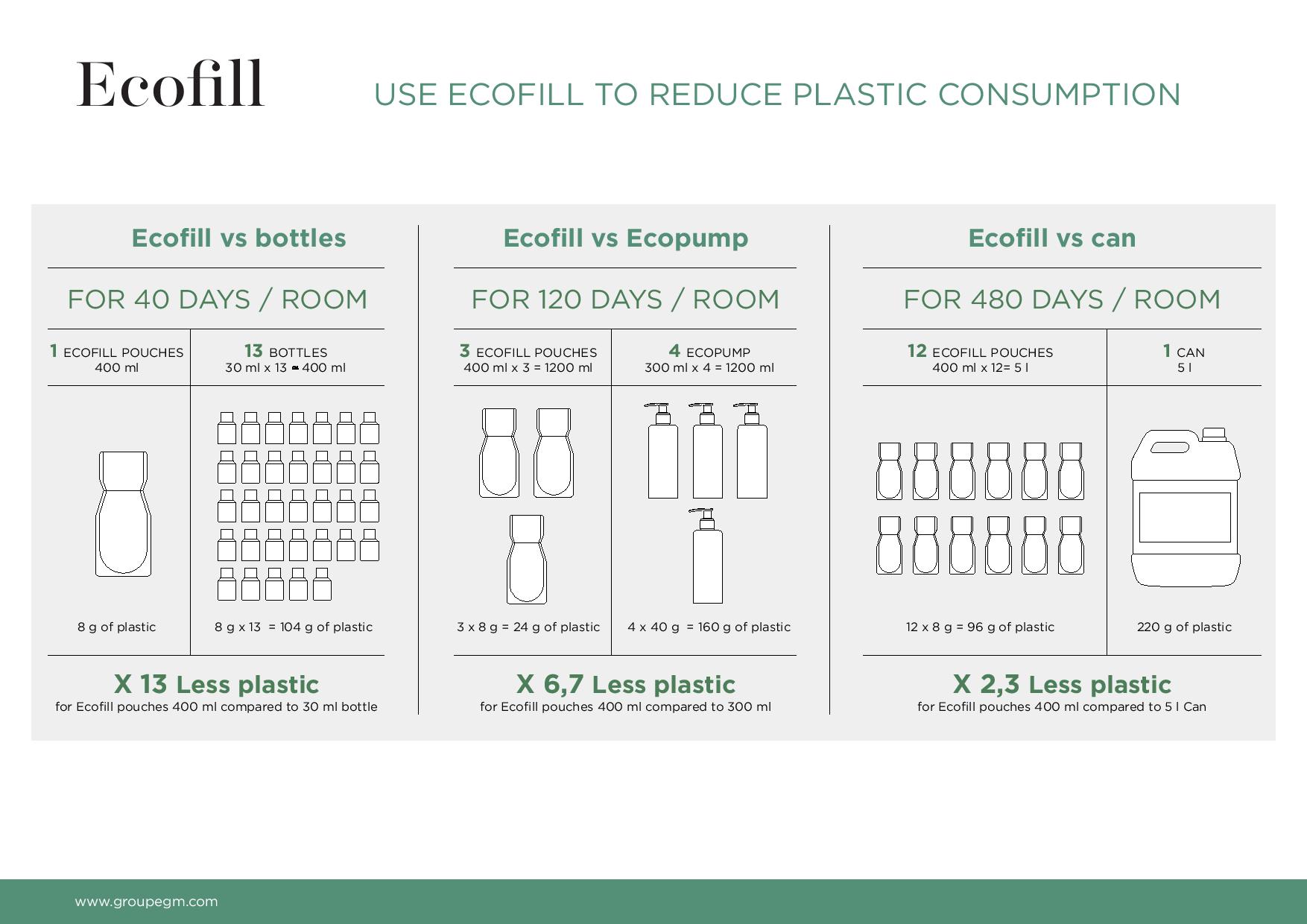 Uchwyty mocujące
TWORZYWO ABS (biały / czarny)
STAL NIERDZEWNA (OPCJA: uchwyt podwójny chromowany)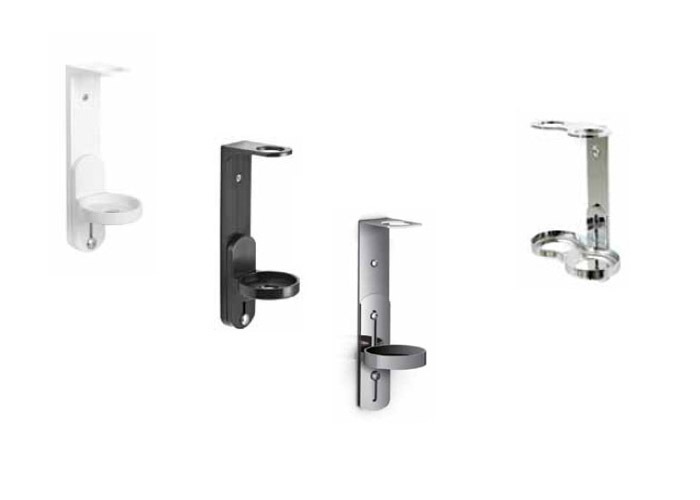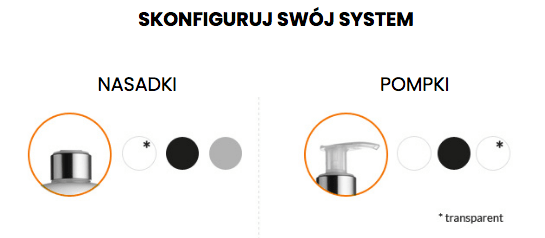 System ECOPUMP
EKONOMICZNY
Kontrola nad ilością dozowanego płynu, możliwość zakupu opakowań uzupełniających dla wybranych produktów
INTUICYJNY
Łatwy i praktyczny w użyciu
PRZYJAZNY ŚRODOWISKU
Zaprojektowany z przezroczystego materiału PETG, który ulega recyklingowi, może być używany jako opakowanie produktów z Ecolabel oraz organicznych
HIGIENICZNY
Pomaga ograniczyć ryzyko przenoszenia bakterii
CZYSTY
Łatwy w czyszczeniu system pompujący oraz zawór ograniczający kapanie
BEZPIECZNY
System antykradzieżowy, szybki i łatwy sposób wymiany wkładów
SYSTEM ECOSOURCE
EKONOMICZNY
W 98% wykorzystany produkt, kontrola nad ilością dozowanego płynu. 1 naciśnięcie dostarcza 2 ml płynu
INTUICYJNY
Łatwy i praktyczny w użyciu
PRZYJAZNY ŚRODOWISKU
Próżniowe pakowanie w sterylnym środowisku. Waga zużytego opakowania wynosi tylko 11 g przyjaznego środowisku plastiku
ŁATWY MONTAŻ
Uchwyt mocowany do ściany
DWUELEMENTOWY
Pomaga ograniczyć ryzyko przenoszenia bakterii
UCHWYT
Uchwyt na dyspenser jest wykonany z plastiku ABS podlegającego recyklingowi
SOUS-VIDE
Produkt zamyka się w hermetycznych opakowaniach próżniowych i utrwala się poprzez pasteryzacje w systemie HTST (ang. high temperature, short time)
BEZPIECZNY
System antykradzieżowy, szybki i łatwy sposób wymiany wkładów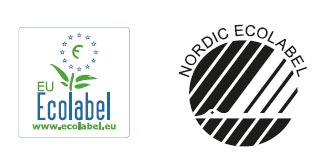 Ask your sales representative for the details of the offer